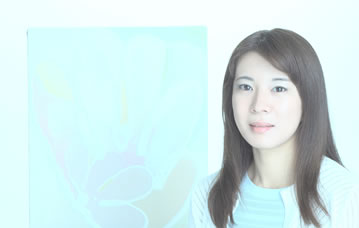 Painter・Artist
Jun Ando was graduated from the School of the Museum of Fine Arts and received Diploma, and B.F.A. from the Tufts University. She studied with the famous painters in New England, Don Sibley and Erica Adams, and after that studied with Makk family who made the portraits for the President Ronald Wilson Reagan for the White House. She was the first Japanese person who was taught by the Makk Family. Her abstract painting serie called "Flower and Moments" is inspired by the beauty of the Nature and the Moments of her Life being as the Japanese woman.
She participated with the group exhibitions called" Reflection of the Light Project" at the Harvard Divinity School, after that participated with the Tsunami Relief charity exhibits sponsored by the Embassies in Japan in 2011.
She exhibited at the Nadaway Gallery in Myanmar in 2015 for the purpose of Myanmar's country's cultural development.
So far, she made solo exhibitions mainly in Japan such as in the Bunkamura Gallery, MIKIMOTO Ginza, the Westin Hotel Gallery, Toba International Hotel, The Huis Ten Bosch Museum etc.
In 2018, The Marriot Associa in Nagoya sponsored her for the solo exhibition "Breath of Summer" at the main lobby.
In 2021, she received the international prize from the 53th Shinin Exhibition (International Public Collection) at the Tokyo Museum in 2021. The Grand Prize from the 43th International H.M.A Art Festival in Seoul, Korea. The Japanese Art Prize from the Art Journal Magazine in November, Vol. 108. She studied the Reggio Emilia Approach to Education of Italy.
In 2022, she received the Mel Kruger Art Prize from the Buyers Guide Magazine.
< Français >

Artiste / Peintre
Jun Ando est diplômée de L'école du Musée des Beaux-Arts et dispose d'un diplôme ainsi que d'un Bachelor en « Beaux-Arts » de l'Université Tufts. Elle a eu l'opportunité d'étudier avec les célèbres peintres Don Sibley et Erica Adams en Nouvelle Angleterre. Après cela, elle a étudié auprès d'Eva Makk, célèbre pour avoir réalisée les portraits des présidents américains Ronald Wilson Reagan pour la Maison Blanche. Ses tableaux abstraits, appelés « Fleur et moments », sont inspirés par la beauté de la nature et les moments de sa propre vie en tant que Japonaise.
En 2005, elle se penche sur la signification des religions en participant au projet de la réflexion de la lumière à Harvard Divinity School. Ce projet fut orchestré par des artistes bouddhistes, chrétiens, etc. Cette expérience lui permit d'emprunter son propre chemin et de créer son propre style, avec « Fleurs et dimensions », inspiré par son expérience en tant que Japonaise.
Ses œuvres ont par plusieurs occasions été exposées (principalement au Japon) comme par exemple à la « Bunkamura Gallery », la « Westin Hotel Gallery », la «Intercontinental Gallery », la « SOGO Yokohama Gallery », la « Renaissance Hotel's Gallery » etc.
Elle a également participée à l'exposition « Tsunami Relief » (Soulagement du Tsunami) sponsorisé par l'Ambassade du Japon en 2011.
En 2014, ses tableaux abstraits, choisis par l ' « Art grage technique », ontété exposés en Birmanie à la « Nedaway Gallery » dans le but de développer la culture dans ce pays.
En 2017, elle a exposé ses oeuvres au Museé Huis Ten Bosch. En 2018, elle a eu la chance d'être sponsorisée par le "Marriot Associa Hotel" à Nagoya pour son exposition en solo, dans l'entrée principale. L'explosion s'appelait "Breath of Summer" (Souffle d'été).